Engineering Workshop
Our machines include:
Radial Arm Drill ~ 2.2M Radius
Power presses with 6 - 400 tonne capacity
160 Tonne Brake Press with 4.25Mm bed
300 Tonne Brake Press with 6M bed
Power hacksaws with up to 800mm dia between jaws
Guillotines of 10mm x 2.4M and 3mm x 3.6M
Mig Welders up to 350 amp
Thread Cutting & Thread Rolling Machines
Forging Presses
Fanuc CNC Machining Centre 500mm x 380mm x 400mm
Microcut Fagor Milling Centre 1300mm x 700mm x 700mm
Tool Shop
A tool room equipped with lathes, milling machines, spark eroding, surface grinder, etc. is available for those projects requiring detailed work.
Profile Shop
Profile cutting including Plasma, Oxy/Fuel and etching, is available at Avon Industries Ltd. We have a 10 metre by 3.6 metre bed with CNC control to do any shape you require. Sheet size can be from 1mm up to 200mm thick.
For further enquiries please contact us at Avon Industries Ltd – 09 435 1033.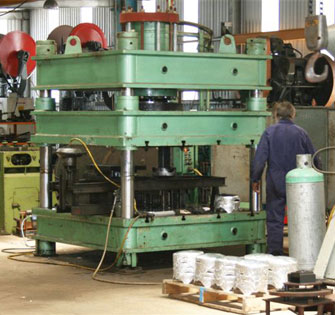 250 tonne Four poster hydraulic press
Presses available incl. power presses - 20 to 400 tonne